Ways to Avoid Hurricane Damage: Hurricane Proofing Your Home
A huge problem with hurricane recovery is that not enough people engage in hurricane preparation. How much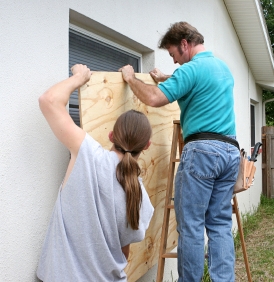 shorter would those gas lines be if we would have all just purchased a couple of extra gallons when we filled our tanks before the storm hit? How much money in hurricane insurance claims could be saved if people simply would have completed a few easy hurricane preparation tasks like adding "hurricane proofing your home" to their hurricane checklist?
We here at National-Hurricane-Center know that hurricane preparedness is an ongoing process. This is why we've compiled a list of a few ways to avoid hurricane damage by hurricane proofing your home well in advance of the onslaught of a hurricane.
Reinforce your garage door: Federal Alliance for Safe Homes says that 80% of residential damage is the result of wind entering the home through damaged garage doors. Our hurricane-proof-your-home solution? Buy a garage door retrofitting kit from a local, reputable supplier. Or, if you are in a pinch, have a contractor reinforce your garage door with plywood that is at least ¾ inch thick. Look for a sticker on the inside of your garage door that tells you how much pressure it can handle. If there isn't one, reinforce the door.
Protect your doors and windows: Your home should be an impenetrable, hurricane-proof fortress (dramatic, huh?). Or, at least that's what you should aim for. If you live in a hurricane prone area, you should invest in hurricane-proof glass for your windows, as well as pre-installed hurricane shutters.
Don't bother with tape. It will not help. At all. Just don't do it. Did I mention not to use tape for windows? You are not hurricane proofing your house if you make spider webs on your glass panes with masking tape. Instead, if you don't have hurricane shutters, have plywood that is measured specifically for your windows, at ¾ of an inch thick, ready to by installed before the storm hits.
Seal all areas that might allow water to seep into your home: Vents on your gabled roofs, areas that you've drilled to get cables and other wires into your home, all of it needs to be covered with plywood or caulked with a contractor-grade sealant. Not doing so will allow water to get into your sheet rock and insulation and with no power available to dry it, it can turn into one big moldy health hazard.
Secure those roof shingles: If you want to hurricane proof your home, you'll need to wind-proof your roof. Any loose roof shingles, or roof shingles you think might be weak need to be replaced or reinforced with glue or extra nails. 6 nails per tile is recommended. If the shingle folds back easily, it's time to use some roofer's cement to make sure it stays down when hurricane winds, rain, and debris are battering it.
Strengthen your soffits: The soffit is the area of your roof that hangs over the outer wall of your house. It's also known as an eave. Much of the structural damage to homes from hurricanes come as a result of soffit damage. These structurally weak elements of the home should be well anchored to the main roof frame. If there are vents to the attic in your soffits, as an added hurricane preparation measure, cover them, even for weak hurricanes, as this may allow wind-driven rain to enter your home. Take a look at NOAA's Hurricane Retrofit guide for more information
Also, remember to check elements of your house that are pre-designed for hurricane proofing your home, such as hurricane shutters, for signs of wear and tear to make sure that they'll be in tip top shape to weather an approaching storm.