Top Ten Most Hurricane Prone States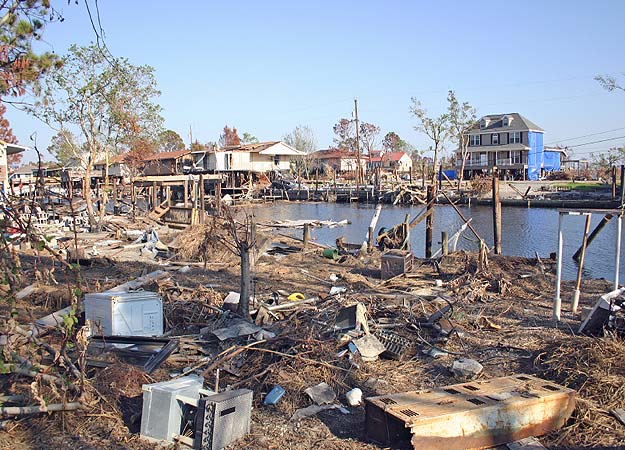 Hurricanes have been known to be some of the most unpredictable and dangerous disasters to strike the United States. Although the determination of when and where a hurricane will make landfall can typically be made only a week or even a few days before the event, records allow us to be aware of which places are most at risk.
So maybe you're not sure if your new vacation home on the coast could be a risky investment for your family; or, perhaps you're worried about that extravagant snorkeling trip you planned during hurricane season?  With our compilation of the top ten states most vulnerable to hurricanes, you can stay informed and prepared to make the right decision.
Ranked by the number of hurricane strikes since 1851, here are the top states most at risk of hurricanes:
1.Florida
With this state's extensive coastline along the Gulf of Mexico, Florida ranks #1 on our list for being struck by a record 113 hurricanes since 1851. Because it is a peninsula, virtually every part of Florida is susceptible to these disasters. Areas most likely to be affected by hurricanes include cities in Southeast Florida such as Miami, Fort Lauderdale and West Palm Beach, Key West and the Florida Keys, Fort Myers and Naples in Southwest Florida and Tampa, St. Petersburg, Sarasota, the Atlantic Coast, Clearwater in West Florida and even the Florida Panhandle. Of the hurricanes, perhaps the  most infamous was the Category 5 1928 Okeechobee Hurricane which flooded the dikes surrounding Lake Okeechobee, killing approximately 2,500 people. In today's currency, this hurricane would have cost the United States $1.35 million in damages.
2.Texas
Since the 1900's, the coast of Texas has been recognized as an area which is frequently struck by hurricanes. With a little over half the number of hurricanes as Florida, an incredible 60 were known to have made landfall along the shoreline of the Lone Star State. Texas holds the record for the deadliest hurricane in United States history- the "Galveston Hurricane", or the 1900 Storm, which took the lives of more than 8,000 people. Cities most likely to be in direct contact with these deadly storms include Galveston, Corpus Christi and Brownsville, with surrounding cities also suffering from the great impacts of hurricanes.
3.Louisiana
Notorious for the devastating impact of Category 5 Hurricane Katrina, which caused 1,836 deaths in August of 2005,  52 hurricanes have battered the cities along the coast of Louisiana. Although this state is third on our list, Louisiana is one of the most dangerous places to be when a hurricane makes landfall. New Orleans was built on a delta marsh, leaving half the city below sea level. Due to its infrastructure and poorly planned levies that were built to support hurricanes of a maximum strength of Category 3, this is an extremely risky area to be during a disaster.
4.North Carolina
Because of its vulnerable location on the Atlantic coast, a total of 50 hurricanes have struck North Carolina since 1851. According to the North Carolina State Climatology Office, a tropical storm hits the state approximately once every 4 years. The state has not been directly hit by hurricanes as many times as the Florida, Louisiana or Texas; however, about 17.5% of all hurricanes in the Atlantic have affected North Carolina. Over the years, these hurricanes have accounted for over $11 billion in damages and 1,000 deaths.
5.South Carolina
Though the landfall of hurricanes in South Carolina have been sporadic, a total of 30 have hit the eastern coast of South Carolina. Some of the most unforgettable storms to have struck the Atlantic Coast, Hazel(Category 4) in 1954 and Gracie(Category 3) in 1959 caused $27 million in damage to the state and left much of the crop in ruin.
6- 8.  Alabama, Georgia and Mississippi
The subsequent states most at risk of hurricanes include states bordering #1 on our list, Florida, with Alabama totaling 27 hurricanes recorded since 1851, and Georgia at #7 accounting for 22 hurricane landfalls. Next on the list is Mississippi, tallying 19 hurricane strikes.  Although the coastal position of these states as they border the Gulf of Mexico (Alabama and Mississippi) and Atlantic Ocean (Georgia) makes them great attraction spots for tourists with their condos and resorts, it also leaves them as vulnerable locations when tropical storms and hurricane disasters occur. It is not uncommon for coastal cities in these states to be dramatically affected by hurricanes hitting nearby states in ways such as flooding, loss of power, and damage to property near shores.
9 & 10. New York and Virginia
The final two states lie along the Atlantic coast: New York with 12 hurricane strikes and 11 hitting Virginia. According to the New York Times, Hurricane Irene which recently made landfall on the East Coast in 2011 caused between $7 billion and $10 billion in damages to states such as North Carolina, Connecticut, Vermont,  and New York where many homes were left powerless, 5were killed and public transportation was halted for several days. Similarly, Virginia suffered from power outages as a result of storm surges which toppled over power-lines and trees which even resulted in the death of two.