Hurricane Irma turns into Category 5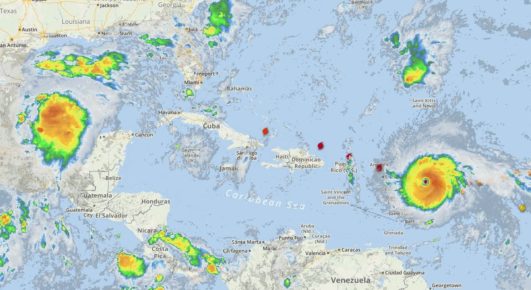 Hurricane Irma has now turned into a Category 5 Hurricane, making it extremely dangerous. Its' winds are up to 175 miles an hour, with no sign of slowing down. Irma began its formation in the Cape Verde Islands and has tracked its way through the Atlantic to get to where it is now. The hurricane is currently tracked to hit the Antigua, British and Virgin Islands, and Puerto Rico, as they frantically prepare for this hit. Puerto Rico has been declared in a state of emergency by their governor. People are waiting for hours at a time in line to buy essentials and supplies for the storm. Their biggest fear: losing power. Universities and schools have cancelled classed due to the storm, a sight very similar to what happened in South Texas.
Irma is expected to turn westward and might hit Florida, the Bahamas, and Cuba. Citizens in Florida are not taking any chances and aren't waiting until the weekend, when the storm is supposedly going to come, to go shopping. Shelves of food and water in grocery stores have already been wiped out as the people prepare for the worst and hope for the best.