Car Insurance After a Hurricane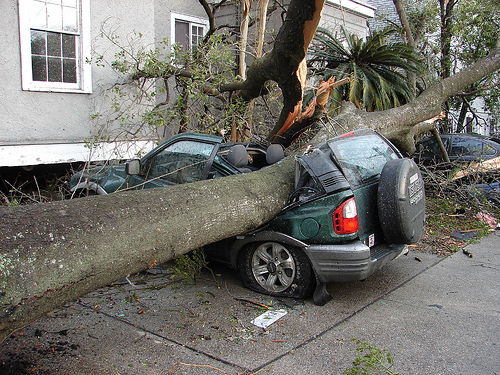 Car Insurance after a Hurricane
If a tropical storm is looming near you, you may be starting to wonder what damages your auto insurance would cover if something were to happen to your vehicle. Most companies have certain restrictions about adding comprehensive coverage just before a hurricane. Because of this, it's important to be sure that you have proper coverage before the natural disaster is imminent, or it is unlikely that your insurance company will allow you to change your insurance plan.
What types of car insurance are there?
Liability Insurance – Required by most states, liability insurance will protect you in the case of a car accident where you are deemed the responsible party. This insurance will cover property damage or medical bills up to a limit, depending on the level of your coverage.
Collision Insurance – Collision insurance will pay for replacement of your car (up to its total value before the collision) or repairs to your car in the case of an accident.
Comprehensive Insurance – This insurance will cover most situations outside the realm of car accidents, including animal collision, theft, and natural disasters such as floods hurricanes. Comprehensive insurance will cover wind damage, flood, hail, and projectile objects that fly into your car.
Gap Insurance – This type of insurance is good for people who are still paying off their vehicles. If the vehicle is totaled, the insurance will cover the amount you still owed on the vehicle. Gap insurance will sometimes cover weather damage, however you should check with your insurance company to be sure.
How do I file a car insurance claim after a hurricane?
The first thing you should do is check which type of coverage you have to be sure that it does cover damage from natural disasters. It's important to act quickly and call your insurance provider to find out what you will need to file your claim. This will likely include proof of damages such as before and after photographs of your vehicle. Remember to document damages before doing anything else or making any repairs.
Once you've gathered all documentation, wait for your insurance company to send an agent for inspection before making any permanent repairs. You should be patient during this process, since insurance companies will be taking many calls with similar claims. After making repairs to your vehicle, keep all receipts, and document all conversations with your insurance agent in case there is a disagreement. If you are not able to settle the claim with your insurance agent, you may want to enlist the help of an insurance attorney.