Hurricane Ike Insurance Disasters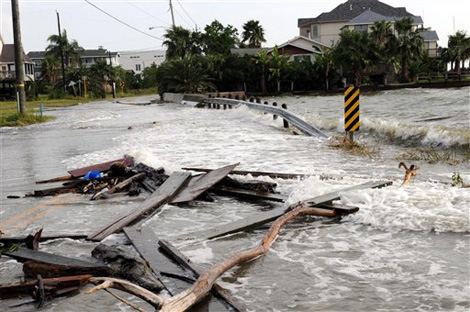 In September 2008, Hurricane Ike swept through the southeastern portion of Texas hammering Galveston and affected regions with $12 billion in insured losses. Flooded cities and destroyed neighborhoods turned to insurance companies to be the "good neighbor"s they had so long promised to be, but many failed to keep their pledge to support communities. As a result, locals were left in disheveled, often  uninhabitable homes, with minimal and untimely financial support from lenders.
One family in Pearland reported that damages from Ike to their home had been assessed by an insurance company as $44,000 although actual totals may have exceeded $60,000. However, the family hadn't even received half of the assessed amount from their insurance company 3 months after the hurricane. The inadequate amount of compensation which the family stated was $17,000, meant that they would have to pay for the losses on their own until further action could be taken. For policyholders who had paid their dues for many years, a failure of the insurance companies to uphold their portion of the policies for struggling clients was clearly unjust.
Insurance Lawsuits
During the months following the hurricane, thousands of affected residents criticized insurance companies for:
a failure to act quickly in their compensation
not offering enough money for the damages
denying coverage which had previously been included
Many cases even resulted in lawsuits against larger insurance companies such as State Farm Lloyd (a Texas subsidiary of State Farm). Investigations of these insurance providers pointed to unfair conduct on behalf of the companies by neglecting to cover the damages listed in their policies. Experts believe that insurers simply turned the other way when it came to coverage for certain areas such as roof damage, which would save them roughly $1 billion.
The Texas Windstorm Insurance Association (TWIA) left homeowners in a similar situation. According to data, TWIA was allegedly responsible for an estimated $2.4 billion in losses. TWIA has been known to turn down claims, denying residents substantial money for living and repair expenses. Years after, TWIA settled lawsuits by making efforts to boost funding to cover the claims$135 million to about 1,200 individuals to cover the claims.
Ike's Lasting Effects
In reports issued in 2012, nearly 4 years after the hurricane, Ike victims continued to take legal action against unscrupulous insurance companies. A quick journey around Galveston, where the city displays plaques and markers of the flooding and water levels on buildings reminds visitors of the destruction and insurance disasters. As a lesson learned the hard way, policy holders should not hesitate to ask questions and do some investigating when choosing an insurance policy.